Way of The Cross
Our Lady of Mount Carmel Parish
140 Year Old Paintings and Classical Architecture Repurposed with Creativity and Technology
SMALL BUDGET. BEAUTIFUL EXPRESSION.
To remain in classic architectural harmony of what was designed in this church sanctuary by Stephen Cascio, his next challenge was to replace the contemporary Way of the Cross stations with expressive devotional imagery.
Research. Photograph. Image Edit. Print.
With a very minimal budget, large stations of the Baroque style are not only rare to find but costly to craft. With some imagination, creativity and the use of large format digital print technology, Stephen developed the optimal solution that fools the eye while embracing the passion of Our Lord.
After extensive research, original paintings by German artist Charles Fick in 1879 were found displayed in a beautiful former Catholic church, called St. Mary's in Dubuque, Iowa. Other than the main and side altars being removed, the interior of the church has been retained and has been converted to a public use center, called Steeple Square.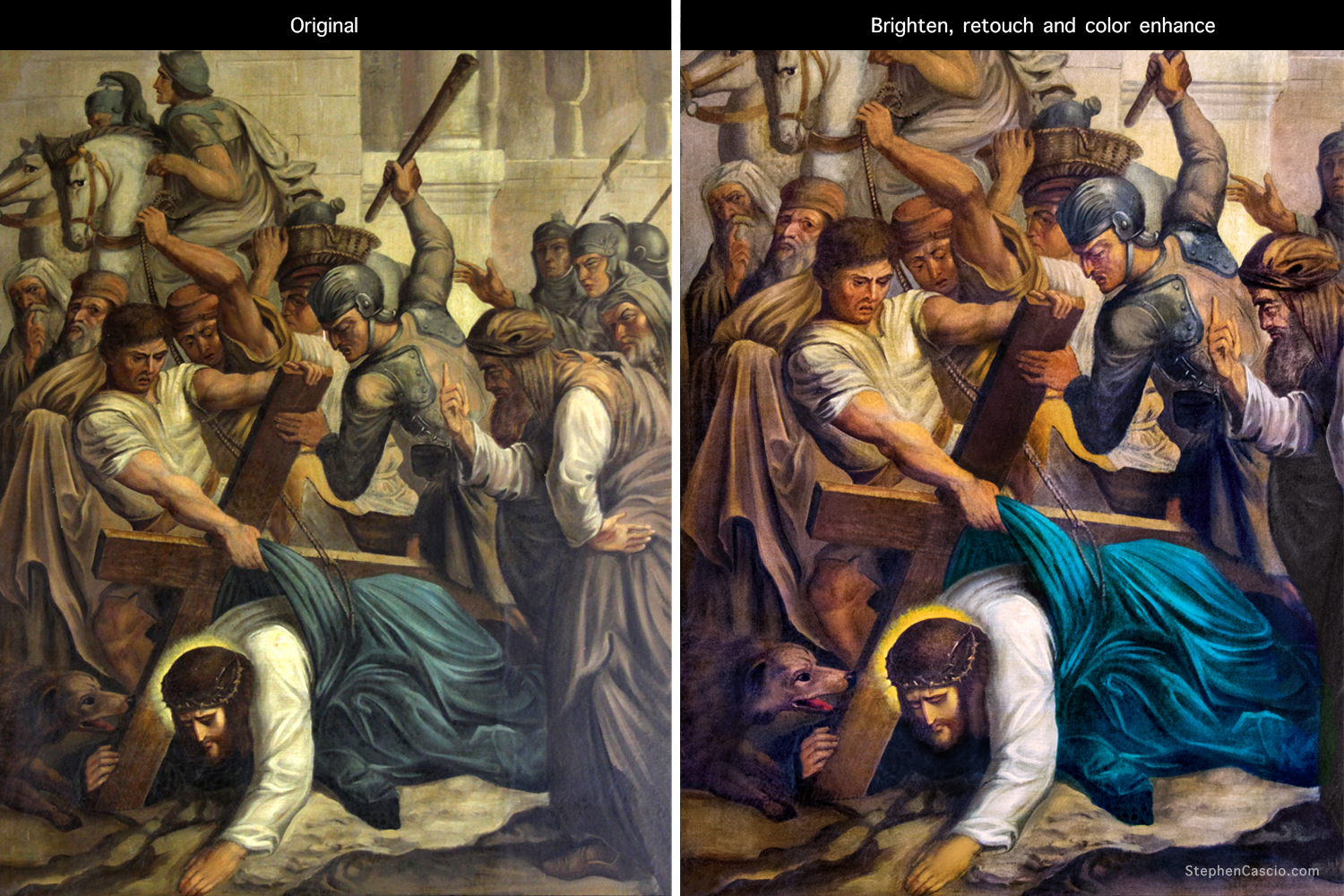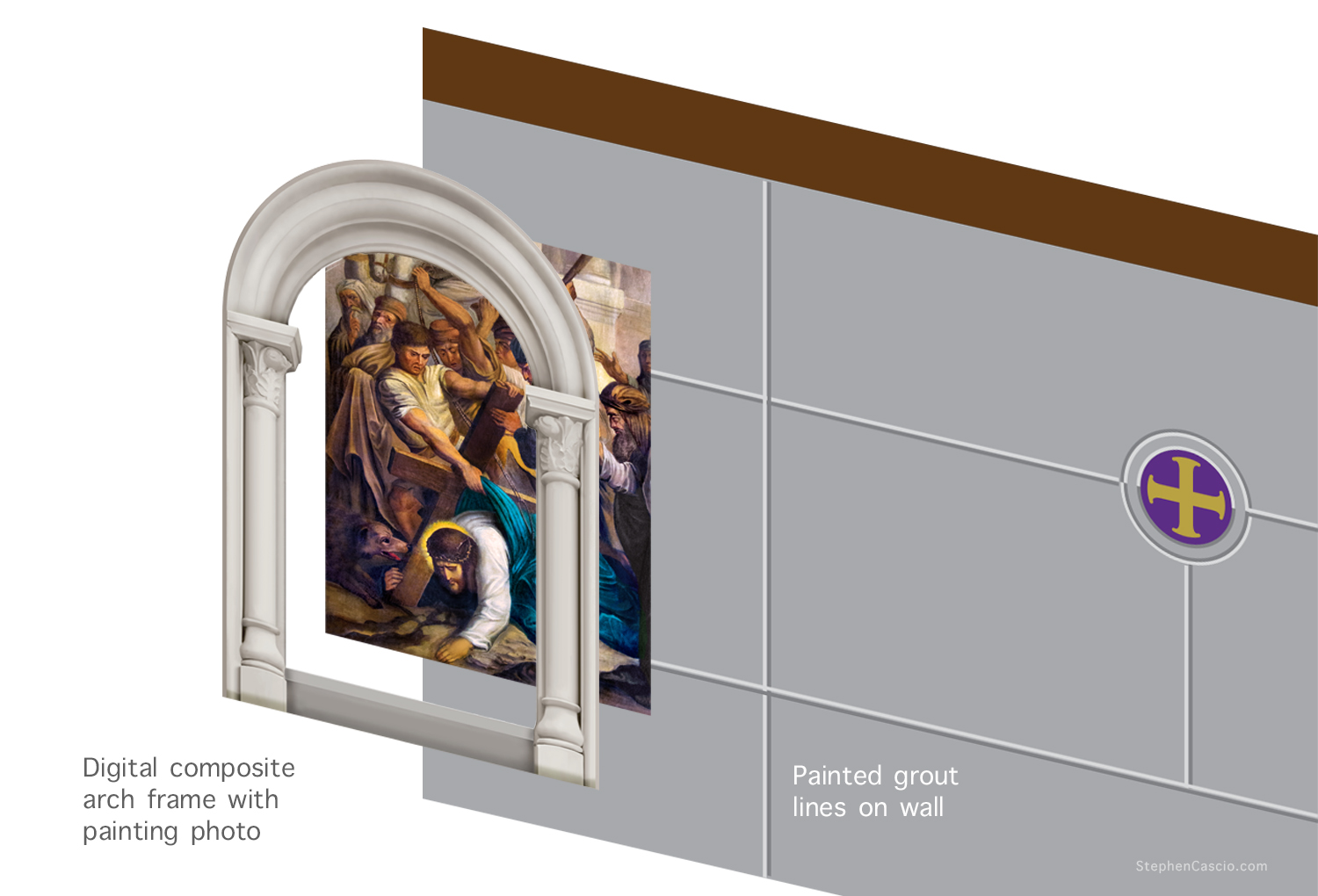 Once photographed on-site in high-res, the image files of the Way of the Cross stations were then taken back to Cascio's studio to be digital remastered, color corrected and cropped to accommodate the new Station's proportions. The Stations were printed at 2500 resolution with fade-proof vinyl inks on canvas and with a wallpapered adhesive applied to the wall. The arch with the paintings creates a stunning realistic image of a magnificent large dimensional Stations. 45in x 65in (114.3cm x 165.1cm) The painted limestone grout lines around the Stations convinces the viewer that the wall and the fourteen Stations are 3 dimensional.
CANTILEVER LIGHTING SYSTEM
The 50 foot lighting cantilever soffit below the Stations were dressed in classic molding detail that architecturally compliments the stations.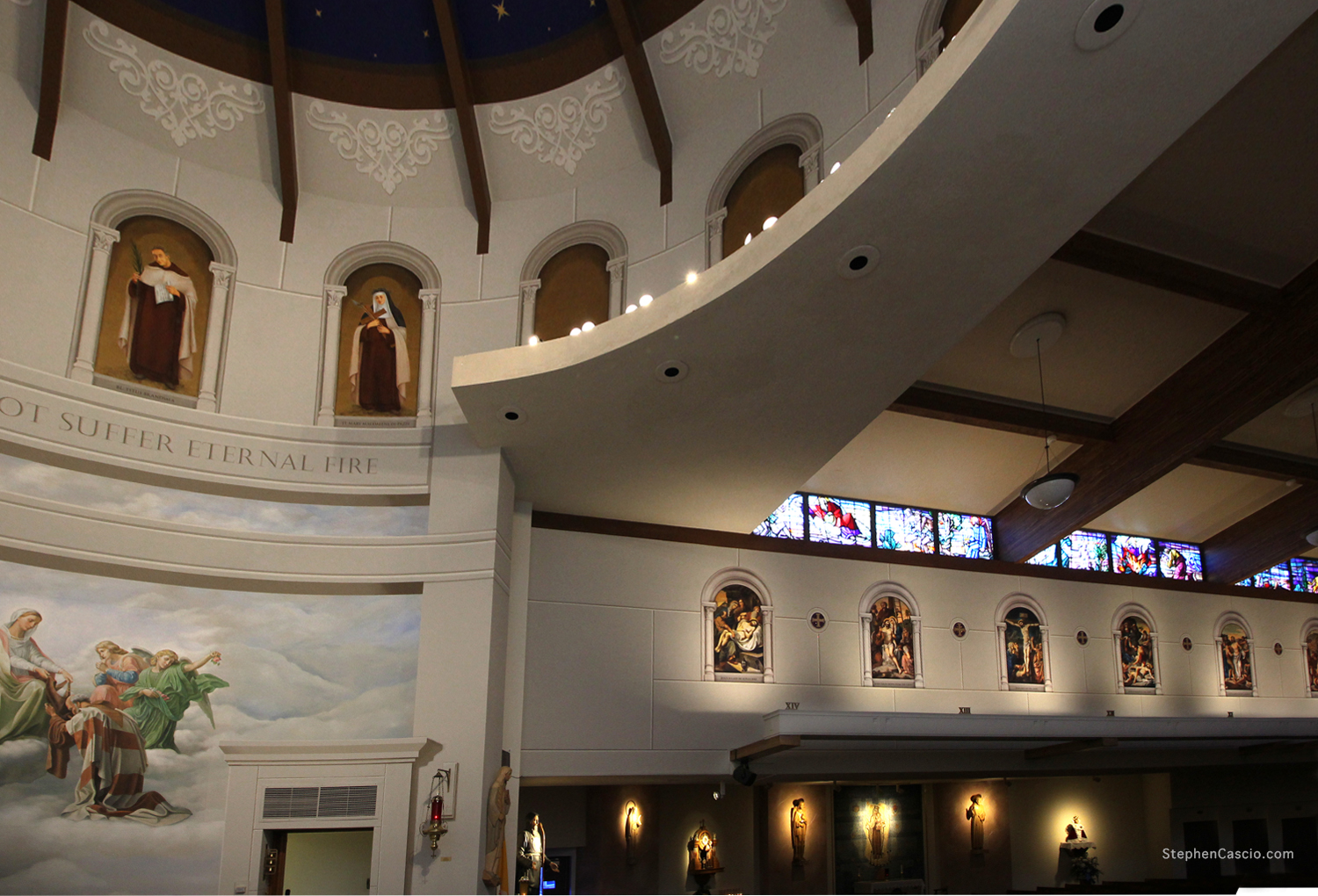 Large Format Fine Art Reproduction Capabilities
Stephen Cascio is highly knowledgeable and equipped with fine art Giclee printers that can reproduce sacred art imagery on archival paper, canvas, fabric and translucent materials. Call for more details about your project.
Liturgical Design Offerings
We would love to hear from you, if you have a concept or idea that needs creative spiritual direction.
Church Renovation
Original Sacred Art
Church Shrines
Outdoor Shrines
Church Signage
Sacramentals
Marble Faux
Furnishings
Ceremonial
Vestment Design
Related Liturgical Projects