Before Renovation
Our Lady of Mount Carmel, Kenosha, WI
"My dear Lady, this is Your church.
You belong front and center"
—Parishioner, Artistic Creative Director, Stephen S. Cascio
One Sunday during Mass—just a few pews back from Our Lady of Mount Carmel side-shrine, designer, artist/parishioner Stephen S. Cascio was graced with inspiration that eventually gave prominence to Our Lady of Mount Carmel, Patroness of the church. Cascio's inner voice softly spoke "My dear Lady, this is your church. You belong front and center".

A few weeks later, Cascio approached parish priest, Father Dwight Campbell with initial design concepts—which lead to an extraordinary transformational journey.
(Right) Ever since the church was relocated and built in the 1965, the statue of Our Lady of Mount Carmel holding the Christ Child was venerated right of the sanctuary.
From a minimalist 1960's sanctuary to a higher formation of meditation, beauty and glory.
(Before photos)
Mission:
Proportionately design a high altar as if it was wedded to the Holy Spirit baldachin, and create a sacred space around Our Lady of Mount Carmel and the Carmelite religious order
The renovation literally transformed the sanctuary into a Carmelite shrine, highlighting Our Lady of Mount Carmel, apparitions and Carmelite Saints
DEPTH. DIMENSION. TROMPE L'OEIL
Spanning 80 feet wide and 38 feet high, the back curvature wall imagery is considered one of the largest continuous Trompe L'oeil sacred art paintings in North America.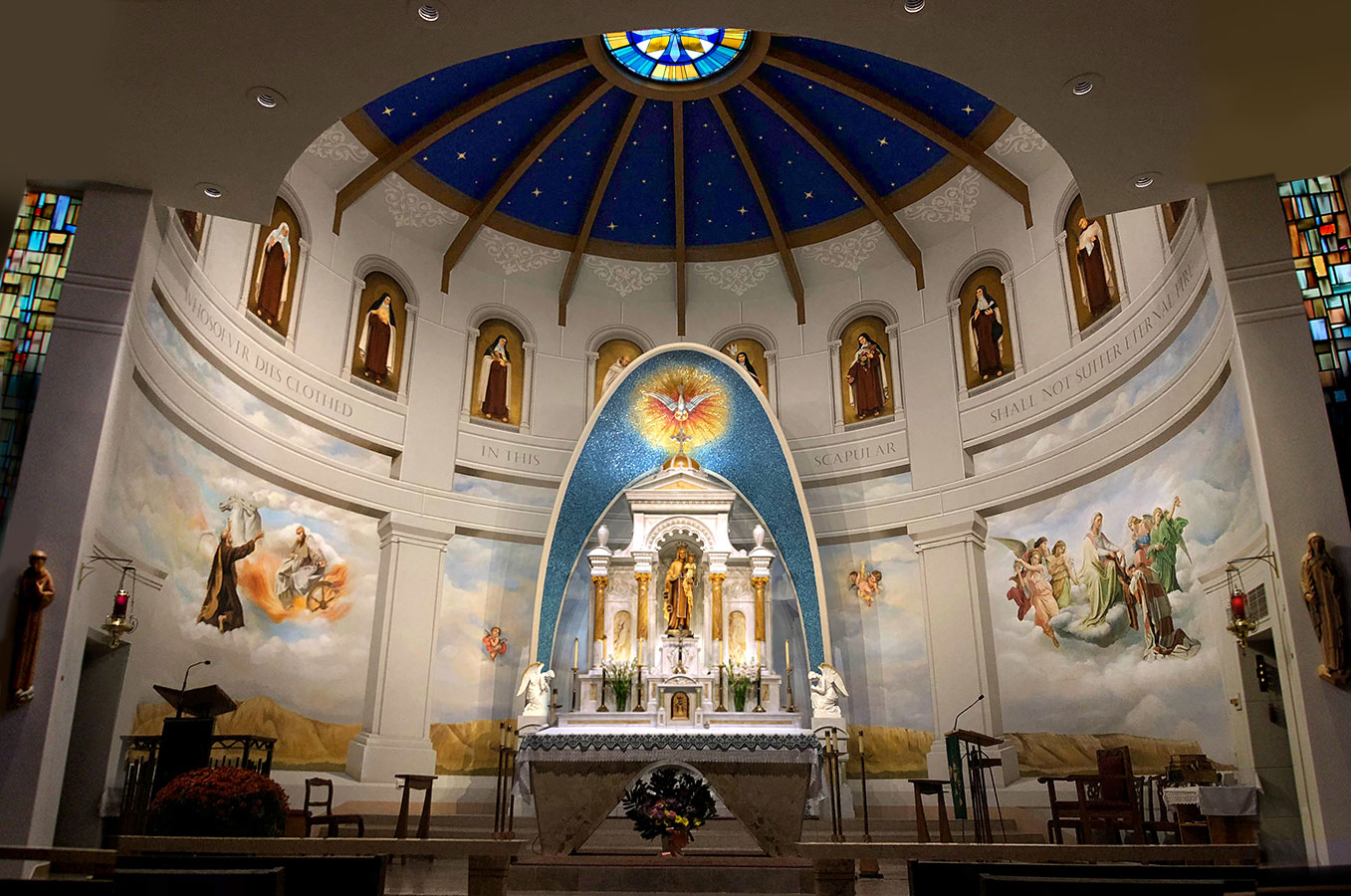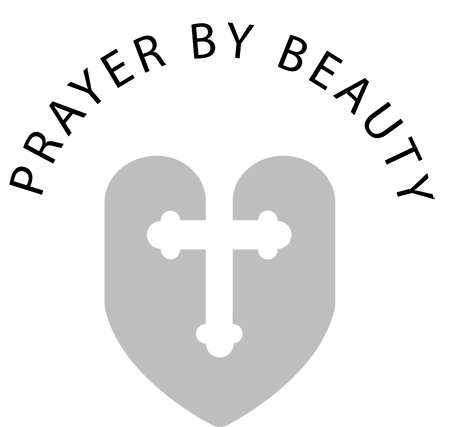 Where heaven touches earth
The four shield Carmelite icon stained glass illuminates among the heavenly midnight stars.
Prophets Eilijah & Elisha Painting
2 Kgs. 2:1-14 describes how the Lord took away Elijah (mid-9th c. B.C.) in a fiery chariot, who left his mantle (symbol of authority) to his successor, Elisha. Both are looked to as the founders of the Carmelites.
Our Lady gives the Brown Scapular to St. Simon Stock
Our Lady appeared to Simon to encourage him, and gave him the Brown Scapular with the great promise, "Whoesover dies clothed in this scapular shall not suffer eternal fire". The mountains represent the region of Mount Carmel.
Agnus Dei, qui tolis peccata mundi, miserere nobis
—Lamb of God hand sculpted by Stephen S. Cascio, incorporated into tabernacle
Sanctuary Adorned by Ten Carmelite Saints
St. Therea of the Andes; St. Marium of Jesus Crucified; St. Elizabeth of the Trinity; St. Benedicta of the Cross; St. John of the Cross; St. Tersa of Jesus; St. Therese of the Child Jesus; St. St. Maria Maravillas de Jesus; St. BI. Titus Brandsma; St. Mary Magdeline de Pazzi
Painting Engraved Inscription
WHOSOEVER DIES CLOTHED WITH THIS SCAPULAR SHALL NOT SUFFER ETERNAL FIRE
"Given that the Holy Sacrifice of the Mass is a participation in the heavenly liturgy, beautiful sanctuary art draws the mind and hearts to Heaven, to the contemplation of God and the saints. Our new sanctuary accomplishes this noble purpose—and those who have seen it recognize this"
—Our Lady of Mount Carmel Pastor, Father Dwight Campbell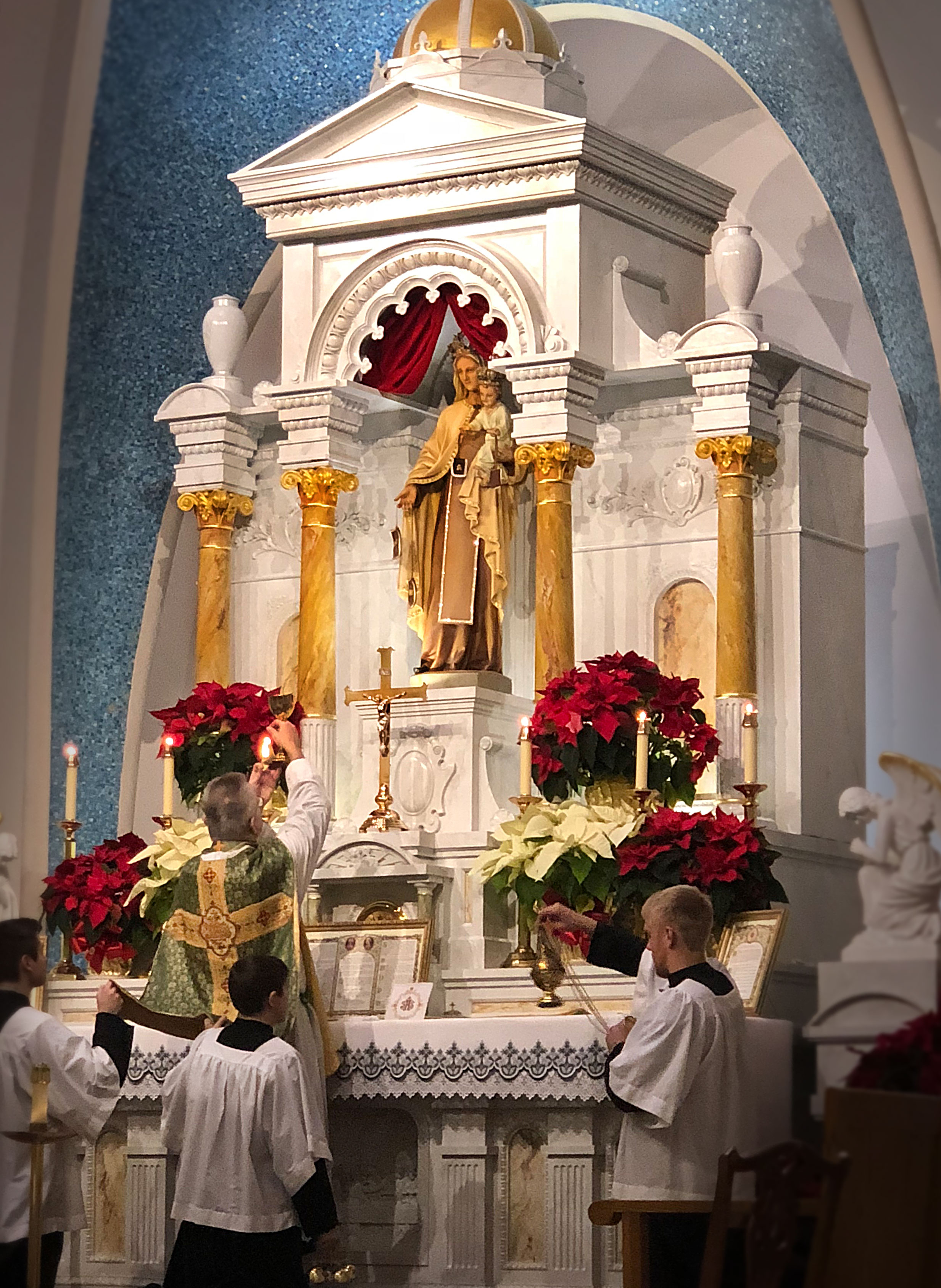 The Tridentine Latin Mass is offered every Sunday at the High Altar
An enormous personal thank you to Father Dwight Campbell of Our Lady of Mount Carmel in Kenosha, WI, for his enthusiasm, liturgical assistance and deeply believing in the project. And many thanks to everyone who made prayerful and financial contributions. Without you, this project would not have been possible. Lastly, a thank you to the artisans and skilled craftspeople who shared their talents to shaped, paint, color, climb scaffolding and help renovate this sanctuary into a sacred place of beauty for God, Mary, the Saints, and families for generations to come.
We would love to hear from you if you have a concept or idea that needs creative spiritual direction.
Church Renovation
Original Sacred Art
Church Shrines
Outdoor Shrines
Church Signage
Sacramentals
Marble Faux
Furnishings
Ceremonial
Vestment Design
Related Liturgical Projects